Description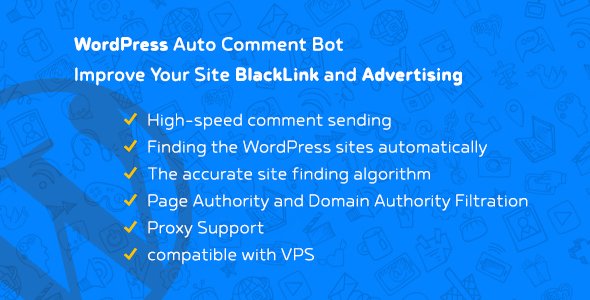 WordPress auto comment bot the professional tool for creating backlink and advertising, with this software you can send thousands of comment to WordPress sites automatically! And get a thousand of backlink and improve your SEO and Marketing.
some of the features wrote below :
1. Finding the WordPress sites automatically with your keywords that you give ( unlimited keywords ) 
2. Find the WordPress Site with two methods (regular, fast ) 
3. Import keywords from the .txt file 
4. Set the custom number of sites for finding ( unlimited sites ) 
5. The accurate site finding algorithm ( uses Google and Bing ) 
6. Select your country Google address ( for the increase of the finding accuracy ) 
7. Import WordPress sites option 
8. Page Authority and Domain Authority Filtration for creating advanced and high-quality backlinks 
9. Random Email generator option 


 10. Random Name generator option 
11. Give unlimited comments and send Randomly 
12. Import/Export comment settings 
13. Proxy Support 
14. High-speed proxies Diagnosis to connect automatically 


 15. Thread base designed and RAM optimized usage 
16. High-speed comment sending ( 
 Now with 4X Speed ) 


 17. Domain TLD filtration 
18. compatible with VPS 
19. On time logs and status report 
20. Software Update notification 
21. Professional UI/UX design + Dark/Light Template 
22. 24/7 Learn-Site Team Support 
and the more details… 
Requirements :
1. .Net Framework 4.5.2 or above
2. Windows 7, 8.1, 10 / Windows server 2012 R2 or above
3. 1024MB RAM or above.
4. 1Core – 2000 Mgz CPU or above
Notice: This software run with your purchase code just on one system. For running this software on more than one system, you must buy again and get new purchase code, or you can order the extended license for using this software on the unlimited system.
Changelog:
1

2

3

4

5

6

7

8

9

10

11

12

13

14

15

16

17

18

19

20

21

22

23

24

Version

:

1.1.0

(

2018

/

11

/

25

)

:

-

New

:

Thread

base

re

-

designed

and

now

with

4X

speed

and

the

application

hangs

resolved

-

Improvement

:

RAM

usage

optimization

-

Improvement

:

Pause

/

Continue

Comment

Sending

-

Fix

:

Update

notification

Version

:

1.0.6

(

2018

/

11

/

09

)

:

-

Fix

:

.

TXT

Import

Problem

Version

:

1.0.5

(

2018

/

11

/

03

)

:

-

Fix

:

The

site

finding

problem

Version

:

1.0.4

(

2018

/

10

/

30

)

:

-

Fix

:

License

Checking

System

Version

:

1.0.3

(

2018

/

10

/

22

)

:

-

Enhancement

:

Sites

finding

Algorithm

Version

1.0.2

(

2018

/

10

/

9

)

:

-

New

:

Unlimited

comments

text

feature

-

New

:

Random

name

option